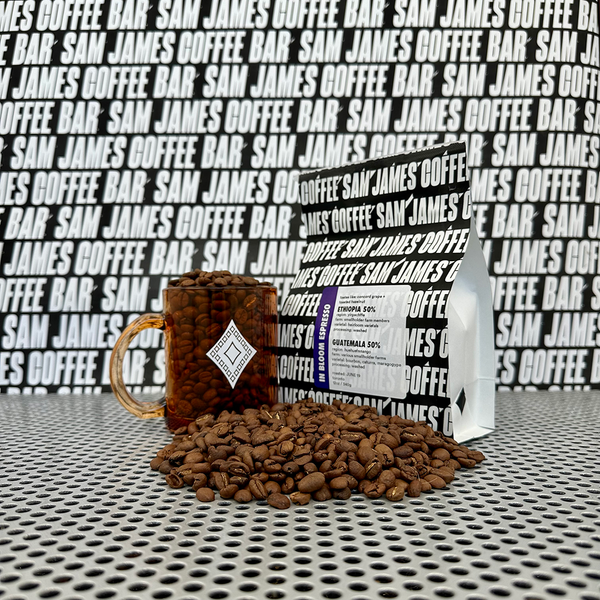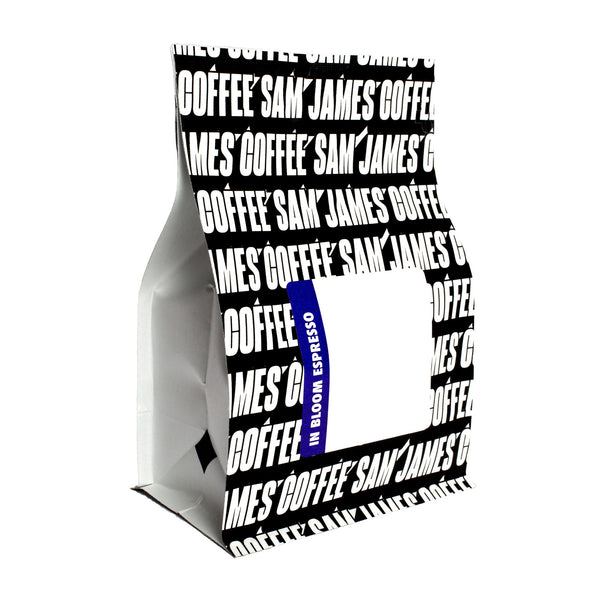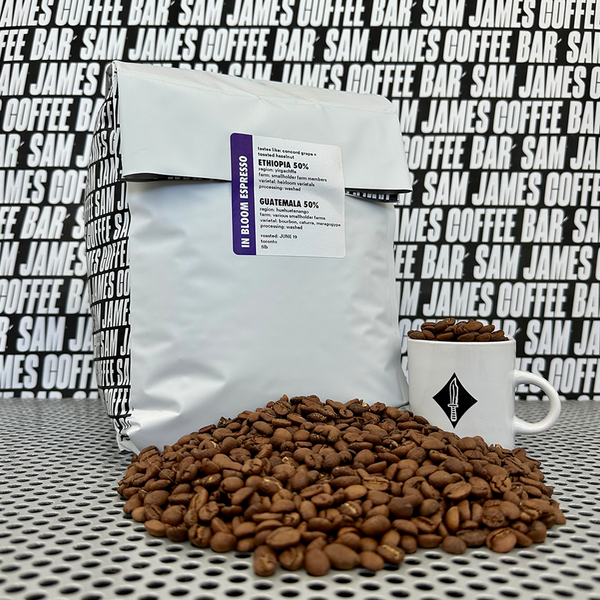 IN BLOOM: Ethiopia + Guatemala
Tastes Like: Concord grape + toasted hazelnut
Medium Roast: 12oz / 340g BAG
ETHIOPIA 50% 
Region: Yirgacheffe
Farm: Smallholder farmer members
Varietal: Heirloom Ethiopian varieties
Altitude: 1800 - 1920 m.a.s.l
Processing: Washed
GUATEMALA 50%
Region: Huehuetenango
Farm: Various Smallholder Farms
Varietal: Bourbon, Caturra, Catimor, Maragogype + Pache
Altitude: 1400 - 2200 m.a.s.l
Processing: Washed

In Bloom is a blend for the experimental coffee fan with a sweet tooth. In Bloom is a 50/50 blend of coffees that highlights the best of what's in season. We source fruit-forward coffees from smaller farms and roast them to highlight their unique character.
This blend changes with the seasons and will always surprise you.
ABOUT IDIDO:
Idido is the village, or kebele, where this coffee is grown and processed, in a microregion of Yirgacheffe. Aricha is about 8 kilometres from the center of Yirgacheffe Town. The coffee is picked ripe between November and January, de-pulped within 12 hours, and washed clean with spring water. 
Aside from its near-legendary status as the "birthplace" of Arabica coffee, there is much to love about Ethiopia as a producing nation, including but not limited to the incredible diversity of flavor and character that exists among microregions, specifically within the southwestern Gedeo Zone of Yirgacheffe within the region of Sidama—areas whose names alone conjure thoughts of the finest coffees in the world. Coffee was literally made to thrive in the lush environment Yirgacheffe's forests provide, developing nuanced floral characteristics, articulate sweetness and sparkling acidity.
GUATEMALA: QUETZAL (Huehuetenango)
Huehuetenango is the most famous coffee region in Guatemala and has the highest altitudes in the country. Crisp, full-body, and toffee sweetness mark this coffee. Huehuetenango tends to be the most fruit-forward region in the country and can be the most complex of what Guatemala offers.
Our importer works closely with their partners to create our Waykan lots through marathon cuppings, meticulous record-keeping, and the promise of higher premiums for better quality. Producers from farms of all sizes bring their coffee to be cupped. Whether they bring 2 or 200 bags, their coffee is sampled and scored, ensuring we get the best available beans.
Huehuetenango is considered a coffee economy. Our importer has told us that around 80% of the population lives directly or indirectly from coffee. These farmers and producers are professionals, and we respect their work because they provide us with delicious, quality coffee beans. 
WATCH OUR FRIEND MANIFEST A WARMER WEATHER WITH IN-BLOOM ESPRESSO
ABOUT ETHIOPIAN COFFEE

Unlike most coffee-growing countries, the coffee plant originated here, not introduced through settlement. Instead, growing, processing, and drinking coffee is part of everyday life and has been for centuries.
There is 99% more genetic material in Ethiopia's coffee alone than in the rest of the world; the result is a coffee lover's dream. No coffees are spoken of with the reverence or romance that Ethiopian coffees are.
Coffee is still commonly enjoyed as part of a ceremonial preparation, gathering family and friends. The senior-most woman of the household will roast the coffee in a pan and grind it fresh before brewing. The process takes about an hour from start to finish and is considered a regular show of hospitality.
ABOUT GUATEMALAN COFFEE
Coffee came to Guatemala in the late 18th century. European immigrants were encouraged by the Guatemalan government to establish plantations. The government distributed seeds and young coffee plants, and by the late 1800s Guatemala was exporting nearly 300 million pounds of coffee annually.
A large percentage of Guatemala's population identifies with one of more than 20 officially recognized indigenous groups. Most farmers are smallholders who are either working independently of one another or formally working in cooperative associations.
In 1960, coffee growers developed a union, which has since become the national coffee institute Anacafé, a research centre and financial organization that provides loans and supports growers throughout the various regions.
Starting in 2012 and lasting for several years, an outbreak of coffee-leaf rust proved a tremendous obstacle for coffee production in the country, reducing yields by as much as 25% and causing the government to declare a state of emergency. Anacafé has been working closely with World Coffee Research on various trials and research that will hopefully result in future protection and prevention of similar outbreaks and provide more productive harvests for smallholder farmers.