COFFEE WITH SAM JAMES
WHAT'S THE DIFFERENCE BETWEEN OUR ESPRESSO AND FILTER ROASTS?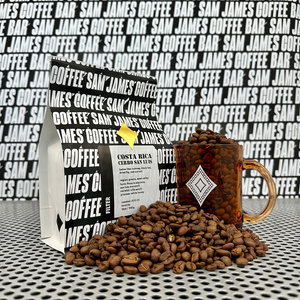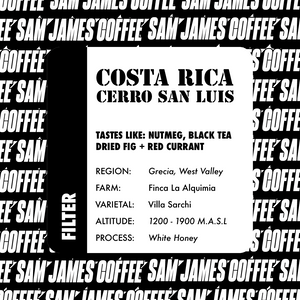 We are very excited to offer you this uniquely refined single-varietal microlot coffee.
In the West Valley of Grecia, the San Luis Micromill at La Alquimia Farm has processed this Villa Sarchi coffee in a style called White Honey. 
HOW TO PROPERLY MAINTAIN YOUR ESPRESSO MACHINE
Espresso machines are a staple in many coffee shops and homes. Still, like any piece of equipment, they require regular maintenance to ensure they function at their best. Here are some tips for maintaining your espresso machine:

"The secret to a great espresso is freshly roasted beans. It all starts with the beans, local, Toronto...thank you Sam James."
Bobby Webster
The Bubble: An Open Gym Documentary

"I've been going to Sam James Coffee bar for 12 years! Everyone is so friendly and welcoming, they are funny and extremely skilled."
Lindsey Gazel

"Between the coffee, baked goods and staff that feel like family, SJCB will always be my daily go-to."
Kerne Mayers
Game Tape
Watch Bobby Webster make Butterknife espresso in the NBA Bubble.
BREAKING BREAD. GAINING GROUND
For me, nothing goes together better than bread and Butter Knife Espresso. That was the idea behind the in-store collaboration between myself and Patti. 
Grind Guide
If you're into grinding your own coffee and want a better understanding of how it works, here is your quick guide.
The Frozen Coffee Myth
Like a canary in a coal mine, I have practiced the following protocol for over a year, and it works really well.